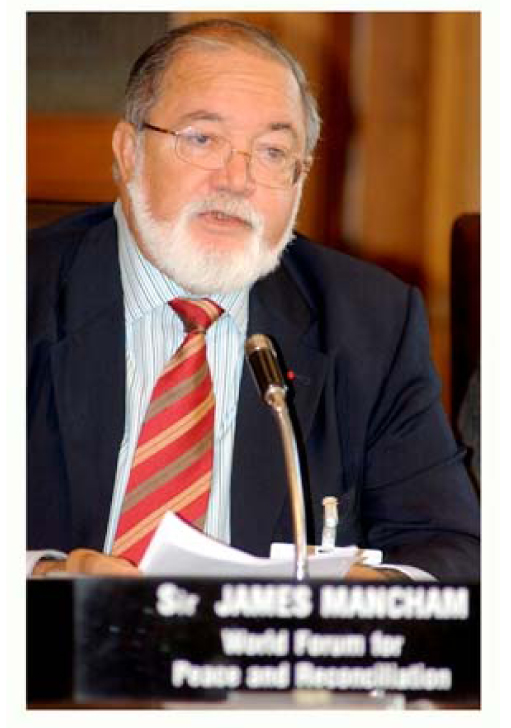 Sir James R. Macham, founding President of the Republic of Seychelles, our long-standing honorary professor, prominent member of ECPD Council and our true friend and supporter, passed away suddenly on January 8, 2017, in his residence in the Seychelles.
Sir James was the Founding and First President of the Republic of Seychelles, President of the World Peace Council and Member of the Club de Madrid. He was a persistent and committed advocate of peace, tolerance, understanding and international cooperation. He received numerous prestigious national and international awards as well as worldwide recognition for his philosophy and tireless engagement for a better world.
Sir James was a unique and more than brilliant personality adorned by the best human characteristics, devoting all his life to peace, cooperation, understanding and tolerance of all kinds and building of a better and more human society.
For his significant contribution to the programme and objectives of our organisation, Sir James Richard Marie Mancham, K.B.E.  was awarded by ECPD Council, Academic Council, Scientific and Education Board and Executive Director at the session held on 22 October 2015, with the special Testimonial of the ECPD University of Peace est. by the United Nations in recognition of his exceptional and dedicated contribution to Peace, Reconciliation, Religious Tolerance, Racial Harmony and Human Rights in the Balkans and around the world.
Reconciliation and understanding were two key words not just in his vocabulary but also in his political actions. Just 11 months ago, he received the African Peace Award. The prize was granted by the United Religions Initiative that stated the following in a letter sent to Mr Mancham to communicate he would be receiving this award: "We have been following with great interest the outstanding work you are doing in promoting a culture of peace, interfaith harmony, cultural values, human dignity, human rights, human security, art and literature, good governance, international solidarity, building the image of Africa and lobbying for the interest of Africa through your active engagement as former President at national, regional and international level and through your books and poetry. It is my pleasure to inform you officially that the United Religions Initiative (URI) Africa have decided to honour you with the Africa Peace Award in 2016".
These words perfectly summarize what James R. Macham meant for so many people in Africa, but also all over the world. 
All of us, his friends and admirers gathered around ECPD University for Peace est. by the United Nations, owe him tremendous gratitude grateful to him and we will be missing him greatly, his wise advice, visionary views, support and friendship we have been nourishing for many years. It remains to all of us to continue his visionary work and to follow his ideals.
Executive Director of ECPD UN University for Peace
Academician Prof. Dr. Negoslav Ostojic
One of Sir James R. Macham poems:
My body has been scarred
My heart has been stabbed
My mind has been shocked
But I will not give up
Because life is not a game
Nor a day of rest and pleasure
Life is a challenge to endure
From early beginning to the inevitable end
For beyond the mountain of unpleasant problems
Man of hope and goodwill will always discover
The loving valley of joyful expectations
Sir James Richard Marie Mancham
Biography:
B. Seychelles: 11.08.39 – KBE – PhD. (Honorary. Founding President of the Republic of Seychelles. President of the Global Peace Council of the Universal Peace Federation.
Education: Seychelles College; Wilson College (London); Council of Legal Education (London 1958 to 1961); Called to the Bar (Middle Temple, London 1961); Auditeur Libre a la Faculté de Droit et Sciences – Economiques, University of Paris (1962); International Institute of Labour Studies, Geneva (1968).
Career: Barrister and Attorney-at-Law, before Supreme Court of Seychelles (1963 to 1967); Founded Seychelles Democratic Party 1964; Member of Seychelles Governing Council (1967); Leader of Majority Party (1967); Member of Seychelles Legislative Assembly from 1964 to 1970 (Three times elected); Member of the Executive Council 1964 up to Self-Government; Led Seychelles Democratic Party to the Seychelles Constitutional Conferences in London (1970 and 1976); Pioneered International Tourism to Seychelles – was first person to disembark from a wide bodied plane in Seychelles (BOAC VC10 – 4th July 1971); First Chief Minister (1966); First Prime Minister (1976); Founding President of the Republic on 29th June, 1976; A victim of coup d'état of 5th June 1977, when in London to attend Commonwealth Heads of State Conference and to celebrate the Jubilee of Queen Elizabeth II; Lived in exile with London base from June 1977 to April 1992, when he returned to Seychelles to contribute to the country's return to multi-party democracy.
Awards:
·         Honorary Citizen of Dade County Florida, U.S.A. (1963);
·         Honorary Citizen of New Orleans, U.S.A. (1964);
·        Elected Fellow of the Royal Society for the Encouragement of Arts Manufacture and Commerce (1968);
·        Certificate of Merit - International Who's Who in Poetry 1974;
·          Officier de l'Ordre National Francaise de la Legion d'Honneur 1976;
·          Honorary Knight Commander of the Order of the British Empire (KBE 1976);
·          Grand Medaille de la Francophonie 1976;
·          Grand Medaille de Vermeille de la Ville de Paris 1976;
·         Quiaad-i-Azam Gold Medal (Pakistan) 1976;
·         Gold Medal City of Pusan (Republic of Korea, 1976);
·         Patron of the Fourth Pan-African Ornithological Congress (Seychelles 1978)
·        Gold Medal for Tourism, Mexico, 1977;
·        Gold Medal of Chamber of Commerce and Industries of France 1977;
·         Gold Medal Excellence Europeenne "En Homage a ses Merites Exceptionels" 1977;
·         Honorary Trustee Cary-Anne Lindblad Interprids Foundation 1986;
·         Plaque of Appreciation Rotary Club of Manilla, Philippines 1987;
·         Chevalier Chaines Rotisseur 1993;
·         Member of the International Palm Society 1994;
·         Gold Medal Manucipality of Dubai 1995;
·         GoldMedal City of Bombay 1996;
·        Honorary Member of the International Consultative Board of the Institute of Strategic Studies and Development of Bracakaric University, Yugoslavia 1997; Judge of Miss World Beauty Pageant (Royal Albert Hall, London 1975); (Plantation Club, Seychelles 1997);
·          Awarded Trophy of the Foundation for Democracy in Africa for the promotion of Peace, Reconciliation and Prosperity in Africa (Miami, Florida May 2000) and designated as 'Ambassador for Peace' by the International Federation for World peace (New York City May 2001).
·         Awarded the Leadership and Good Governance Award of the IIFWP in August 2004 (Seoul, Korea).
·         Made Grand Officer of the "L'Ordre Illustre des Chevaliers de Meduse Priory - The World ResidenSea -(Seychelles 28th January 2005).
·         Appointed Member of the Advisory Board of the International Council of Tourism Partners (ICTP) - (January 2005).
·         Awarded Doctorate of Philosophy (Honoris Causa) of the Sun Moon University of Korea (February 2005). Awarded an Honorary Professorship of the Kazakh National University of Technology in Almaty, Kazakhstan (July 2005).
·           Presented with GoldMedal of the region of Kostroma, Russia (August 2005).
·         Elected Member of the Academic Council of the European Centre for Peace and Development (June 2006).
·         Nominated Visiting Professor of the UN Peace University of Belgrade. Made Director of the Intershore Consult Group Ltd - (February 2007)
·         Appointed official member of World Entrepreneurship Forum (2008).
·         Testimonial of the ECPD University of Peace of the United Nations in recognition of his exceptional and dedicated contribution to Peace, Reconcilitation, Religious Tolerance, Racial Harmony and Human Rights in the Balkans and around the world (October 2015).
·         African Peace Award (February 2016).
·         Award of the Global Energy Parliament, Sri Lankan Prime Minister in the Company of Inter-Faith Leaders of Sri Lanka (January 2016).
GEP Lifetime Achievement Award (.pdf)
MANCHAM RECEIVES LIFETIME ACHIEVEMENT AWARD FROM SRI LANKAN PRIME MINISTER (.pdf)
OPINION  Seychelles - Beyond the year 2016 (.pdf)
OPINION DANGER OF FACEBOOK DEMOCRACY (.pdf)
Some organizations with which Sir James is associated: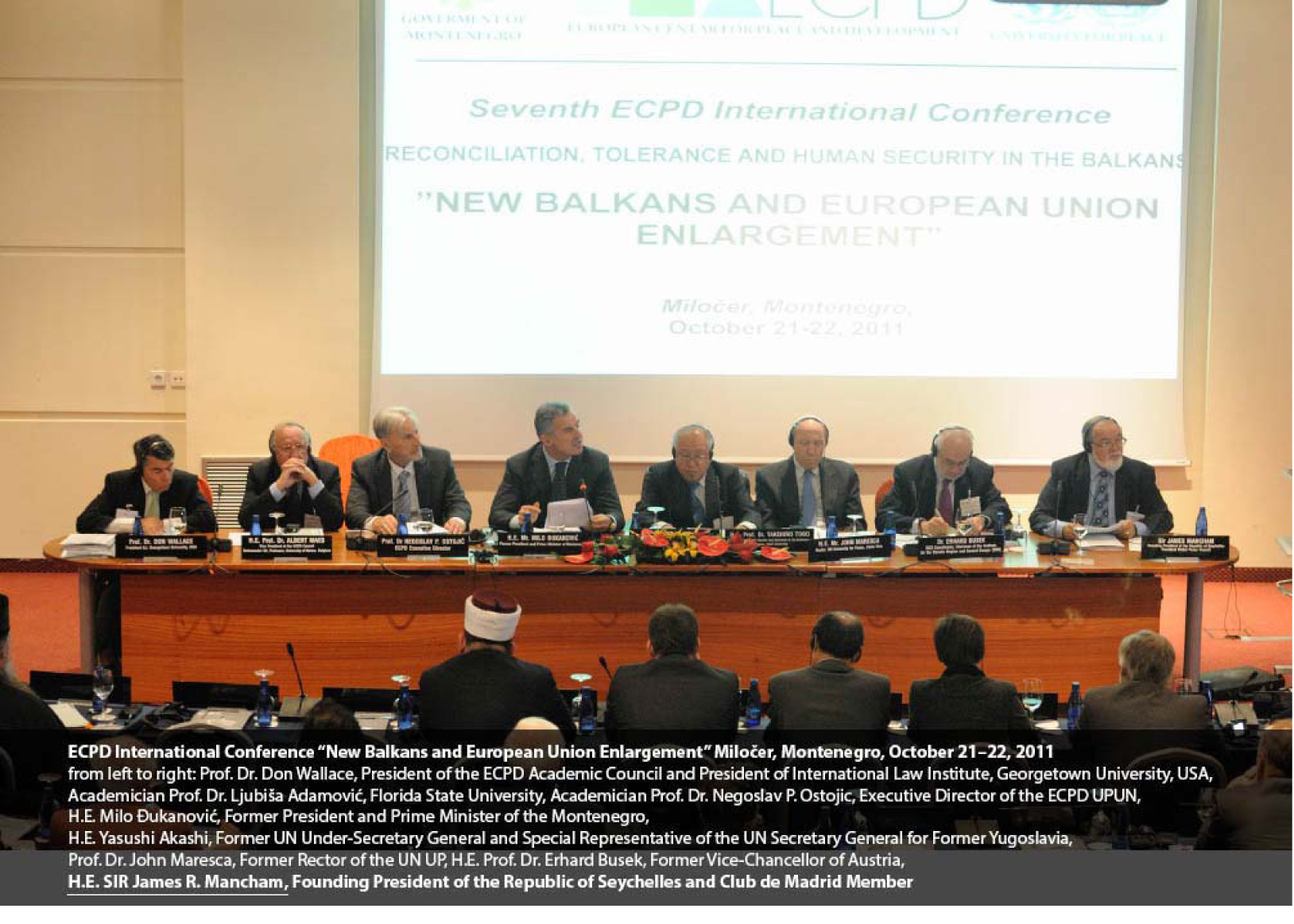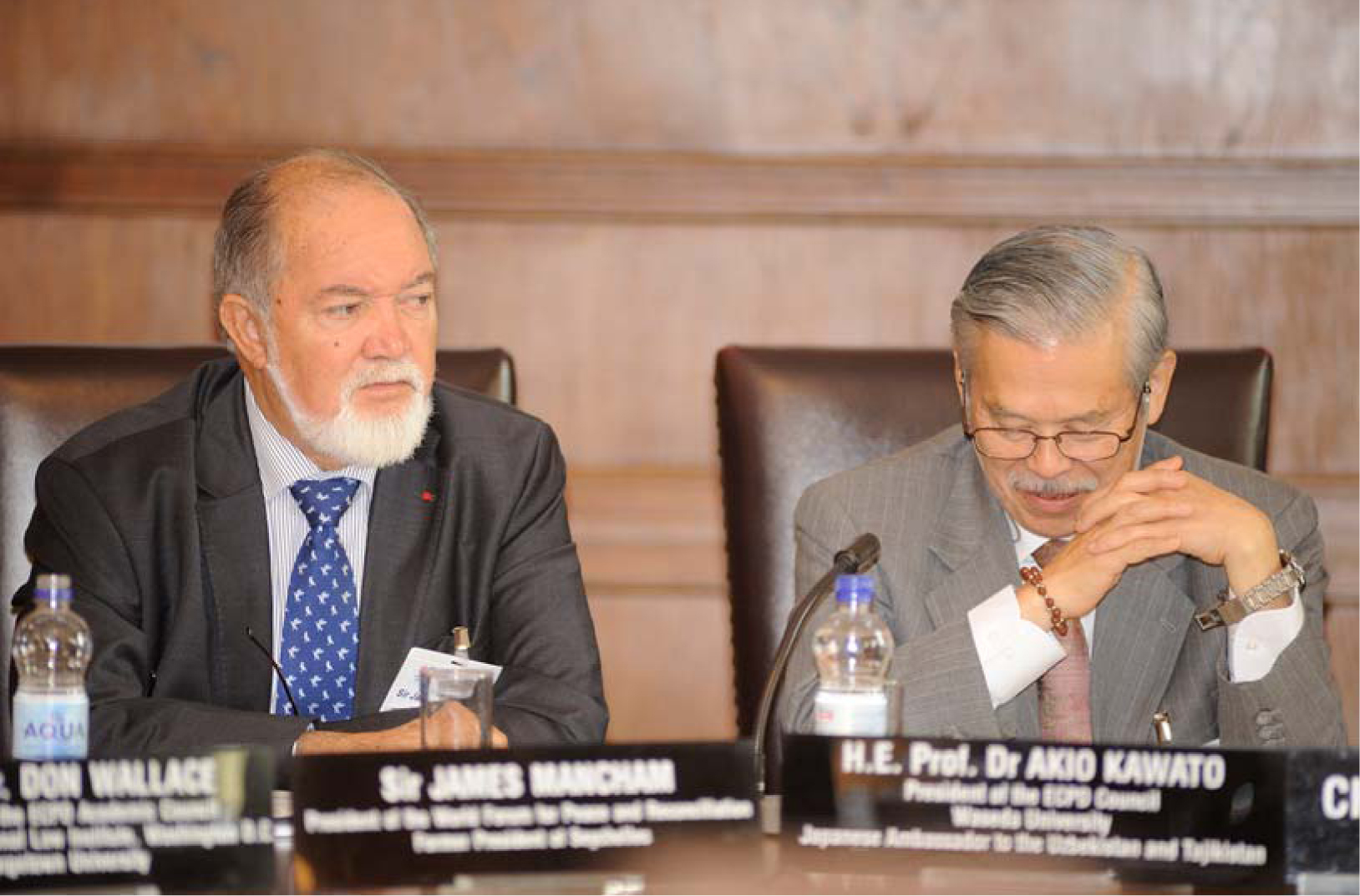 Sir James Mancham and H.E. Prof. Dr Akio Kawato, President of the ECPD Council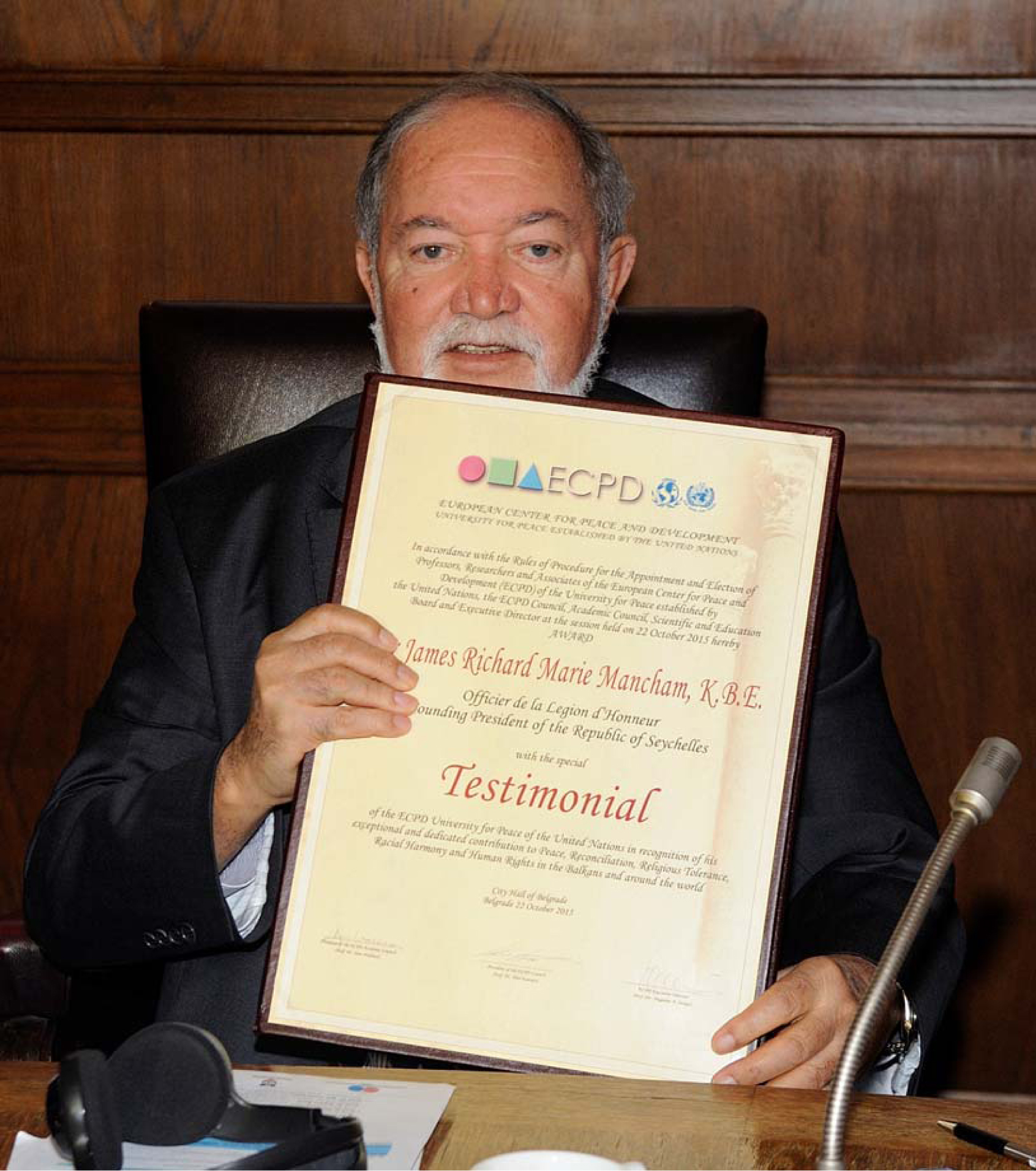 Evropski centar za mir i razvoj Univerziteta za mir UN obaveštava da će se javna odbrana magistarskih teza Lele Saković pod naslovom "Komunikacija, stres i produktivnost u preduzećima" održati 31.05.2017. u 13,30h i Marine Bisenić pod naslovom "Upravljanje rizicima finansiranja malih i srednjih preduzeća Republike Srbije u krizi" održati 05.06.2017. u 18,00h u ECPD, Beograd, Terazije 41.
Tab content 2
Tab content 3