The University for Peace (UPEACE), San Jose, Costa Rica, was established by the United Nations General Assembly pursuant to its Resolution 35/55 of December 1980 to "provide humanity with an international institution of higher education for peace and with the aim of promoting among all human beings the spirit of understanding, tolerance and peaceful coexistence, to stimulate cooperation among people and to help lessen the threats to world peace and progress..."

The UPEACE performs its noble task under the slogan "SI VIS PACEM – PARA PACEM" (If you desire peace – prepare for peace).
"Powerful nations must understand that if sophisticated weapons cannot control the unorthodox surprise action of guerillas, nor stop the cowardly activities of terrorists not, much less, win wars, we have come to the moment in which peace must dominate in the mind of man: a result only possible through education." (Rodrigo Carazo, Dialogue, July 1987)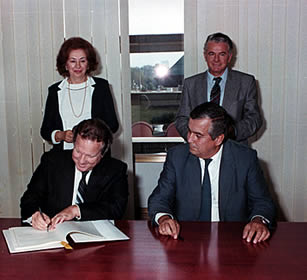 Signing of Agreement
Where did the ECPD get its name from?

The word "European" forms part of our name, because the Center was established under an international agreement to operate in the territory of "Helsinki Europe" which, as is known, includes the countries of Europe and North America".

The words "for Peace" implies that the Center operates with the World University for Peace established by the organisation of United Nations; and

The words "and Development" stem from the awareness that a lasting peace cannot be ensured unless the countries and nations, to which destiny was a stepmother, start to develop in a considerably faster and more harmonious way than hitherto, as well as from universal truth that there is no peace without development. 

Simonida Marjanović 
Evropski centar za mir i razvoj Univerziteta za mir UN obaveštava da su doktorska disertacija i Izveštaj o oceni disertacije Aleksandre Plazinić pod naslovom "The European Union Accession Negotiations with Serbia – the Role of Communication Strategy" stavljeni na uvid javnosti u Sekretarijatu ECPD (Beograd, Terazije 41), 15 dana od 11.10.2017. godine.
Tab content 2
Tab content 3