Pubblicato Mercoledì, 31 Ottobre 2018 06:00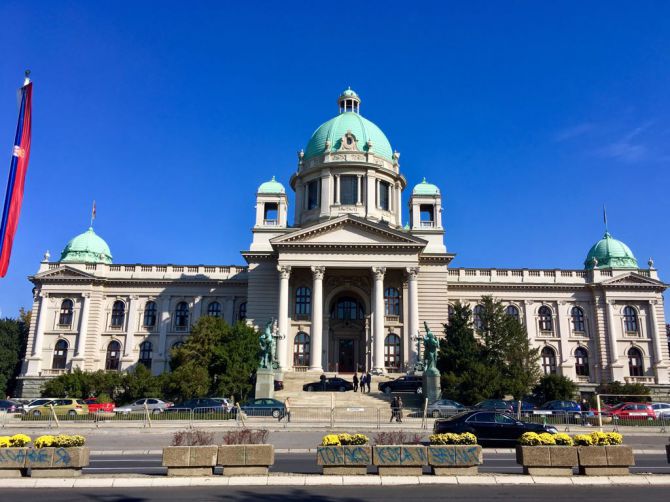 Firmato a Belgrado l'accordo di cooperazione
Nuovo concetto di sicurezza umana
di Agostino Ciciriello *
Quello della sicurezza umana rappresenta il principale tema di dibattito all'interno delle agende politiche europee. La visione che i Governi nazionali hanno sull'argomento è ormai capace di condizionare in maniera considerevole sia le dinamiche riguardanti i rapporti internazionali tra gli Stati che i fenomeni legati al consenso popolare delle forze politiche che si muovono al loro interno.
Le diverse ondate di attacchi terroristici, che hanno colpito l'Europa nei suoi centri nevralgici, le ripercussioni della crisi economica e l'aumento esponenziale dei flussi migratori provenienti dalle zone di guerra dell'Africa subsahariana e dalla Siria, hanno contributo in maniera sostanziale a causare un crollo nella percezione che i cittadini europei hanno della propria sicurezza sociale ed economica.
Mai come in questa fase storica parlare di sicurezza è un atto coraggioso. Le indicazioni e le decisioni che vengono individuate in questo ambito sono capaci di condizionare più che mai l'opinione e la vita dei cittadini europei. Era dai tempi della Guerra Fredda che non avevano assistito a cambiamenti socio-politici così profondi.
La rinascita dei movimenti ultranazionalisti ed il crescente consenso che questi stanno conseguendo tra gli elettori in gran parte dell'Europa, non solo evidenziano la necessità di individuare nuove soluzioni ai problemi che si sono venuti a creare ma, soprattutto, impongono alla società civile di ripensare ab origine il paradigma della sicurezza umana, in funzione dei cambiamenti epocali che l'Europa ha attraversato negli ultimi anni.
Ed è stato proprio l'obiettivo di individuare "A new concept of human security" ad animare la Conferenza Internazionale dell'European Center for Peace and Development (ECPD), organismo internazionale istituito dall'ONU nel 1983 con sede a Belgrado, nato nella Jugoslavia di Tito e sopravvissuto alla Guerra dei Balcani, con l'obiettivo di sviluppare ricerche, studi e corsi di rilievo internazionale, nei diversi ambiti delle scienze umane.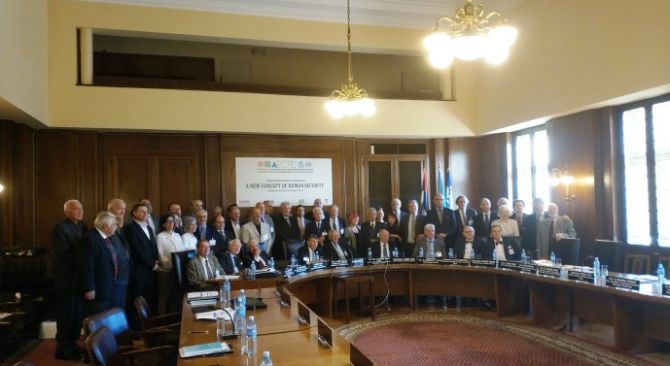 Svoltosi in una insolitamente calda Belgrado gli scorsi 26, 27 e 28 ottobre, l'evento rappresenta ancora oggi un punto di riferimento nello scenario mondiale dei think tank grazie alla capacità del Prof. Dr. Negoslav P. Ostojić, Presidente dell'ECPD, di coinvolgere i rappresentanti delle più autorevoli istituzioni internazionali in ambito accademico e diplomatico.
La Conferenza Internazionale di quest'anno, giunta alla sua quattordicesima edizione, è stata diretta dal Dr. Roberto Savio, consigliere d'amministrazione di Fondazione Italiani, ed ha riunito nella City Hall di Belgrado oltre 40 relatori provenienti da tutto il mondo che hanno fornito i loro contributi sui temi della nuova definizione di sicurezza umana, delle sfide della sicurezza umana nei Balcani occidentali, dell'approccio alla sicurezza economica e della sicurezza culturale e dei valori condivisi.
Ospite dell'evento anche il Presidente della Fondazione Italiani, Dr. Gennaro Damato che, nel contesto della Conferenza Internazionale, ha sottoscritto con il Presidente dell'ECPD un accordo di cooperazione tra le due organizzazioni.
L'iniziativa, promossa dal Dr. Roberto Savio, è finalizzata alla realizzazione di progetti comuni negli ambiti della cultura, delle scienze umane e dello sviluppo sociale ed economico.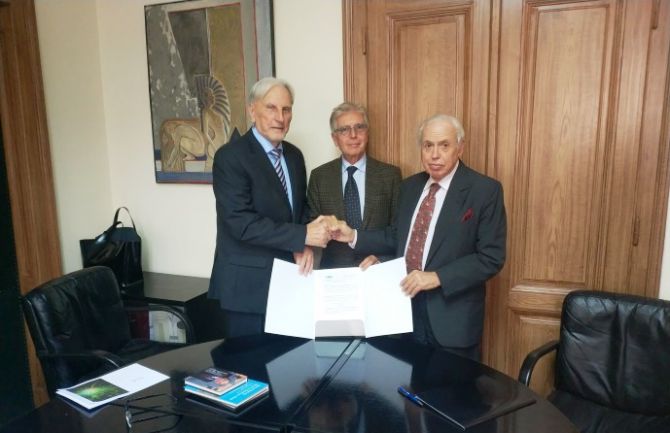 Alla firma dell'accordo: Negoslav Ostojić, Gennaro Damato, Roberto Savio, foto di Agostino Ciciriello per italiani.net
"La Conferenza Internazionale dell'ECPD – ha dichiarato il Presidente della Fondazione Italiani, Dr. Gennaro Damato – è riconosciuta a livello internazionale come uno dei think tankpiù importanti e siamo onorati di essere stati invitati a questa edizione. Ringrazio il Prof. Dr. Negoslav P. Ostojić per averci ospitato qui in Serbia ed il Dr. Roberto Savio per aver fortemente voluto la realizzazione di questa partnership tra la Fondazione Italiani e l'European Center for Peace and Development, due organismi che perseguono gli stessi obiettivi in parti diverse d'Europa".
"Abbiamo accolto con molto interesse la proposta del Dr. Roberto Savio di sottoscrivere questo accordo, perché apprezziamo l'attività di diplomazia culturale che la Fondazione Italiani svolge in Europa ed, in particolare nei Balcani. Ci impegniamo a dar seguito nell'immediato agli obiettivi comuni che abbiamo definito in questa sede", è stata la replica del Prof. Dr. Negoslav P. Ostojić.
La figura del ponte, soprattutto in Serbia, ha una valenza simbolica: durante la Guerra dei Balcani, infatti, i ponti venivano distrutti per separare le popolazioni di religione e lingua diversa. Con questo accordo, invece, Fondazione Italiani ed ECPD costruiscono un ponte metaforico tra le due organizzazioni, con l'obiettivo di favorire la cooperazione e lo sviluppo culturale tra tutti Paesi dei Balcani e tra questi e l'Europa occidentale.
* Responsabile per la Cooperazione Internazionale della Fondazione Italiani
inShare
Stampa
·         
o   Il seggio negato alla Merkel
Giorgio Castore
o   Nuovo concetto di sicurezza umana
Agostino Ciciriello
o   Brasile: la destra al potere
Diego Grazioli
o   Honduras: la carovana della sopravvivenza
Diego Grazioli
Roberto Savio
o   Arabia Saudita: L'Affaire Khashoggi
Diego Grazioli
o   Polarizzazione politica in Baviera
Massimo Predieri
o   Il mio incontro con "El Che"
Roberto Savio
o   Dibattiti politici a Ferrara
Massimo Predieri
Diego Grazioli
o   Anche Macron tra frangenti e ostacoli
Giorgio Castore
o   UNHCR: osservazioni al Decreto Legge
UNHCR
Giorgio Castore
UNHCR
Giorgio Castore
o   Eritrea-Etiopia: la pace possibile
Diego Grazioli
o   Diplomazia culturale in Kosovo
Agostino Ciciriello
Giorgio Castore
o   Maldive: un corto circuito tropicale
Diego Grazioli
o   Bombe spagnole nella guerra in Yemen
Roberto Savio
Italian Media s.r.l. - via del Babuino 107, Roma, c.a.p. 00187, p.IVA 09099241003, edita il settimanale Italiani con registrazione al Tribunale di Roma n. 158/2013 del 25.06.2013 - email: This email address is being protected from spambots. You need JavaScript enabled to view it.