Rich Insights into two of the UN's outstanding leaders
Boutros Boutros-Ghali and Maurice Strong
Two books[1], just published show how the UN has gained global influence through the leadership of exceptional individuals. They are fascinating both for the insights they offer and for the sharp contrasts in the personalities and approaches of the individuals they recall. Remembering Boutros Boutros-Ghali recalls the highly-intellectual UN Secretary-General from 1992-96 and Remembering Maurice Strong, the self-made Canadian businessman and inspirer and organizer of the two great environmental conferences, in Stockholm in 1972 and the Earth Summit in Rio in 1992.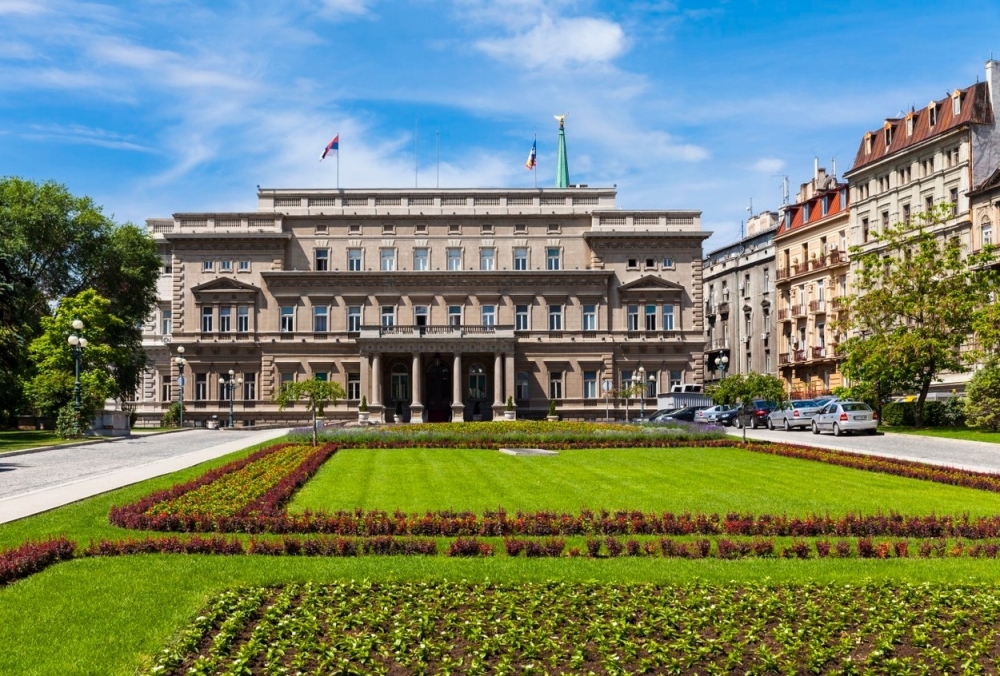 BBG, as he was commonly known and Maurice, as he was widely known to friends, were totally different in upbringing, background, careers, styles, approaches and roles in the UN. Yet in contrasting ways, both were major influences on the UN and on international policy and action, BBG primarily in the 1990s and Maurice over four decades from the 1970s.
The two books about them are reminiscences not biographies – all the stronger and more fascinating because each brings some 40 different viewpoints, from those who had worked with BBG or Maurice, in the UN or who had advised or mobilized closely on its edges. The diversity of contributors provides varied and often contrasting perspectives on each of them in a way missing from most biographies –reflecting, for example, BBG's strong commitment to the G-77 brought out by Ahmia Mourad, his highly intellectual approach by Nitin Desai and his strong sense of self and ambition, brought out by Patrizio Civili. Such perspectives from close insiders is a useful antidote to the views of outside critics and governments of the North, especially perhaps of the US which used its veto to prevent BBG receiving a second term, making him the only SG to serve only 5 years.
Alexey Vasiliev's piece brings out how BBG, a convinced liberal, had pre-UN experiences which convinced him of the need for a multi-lateral and balanced approach between the West and the Soviet Union. Vasiliev's piece, Patriot of Egypt and friend of Russia, traces BBG's distinguished and extraordinary multi-national background – fluent in Arabic, English and French, Professor at the University of Cairo, scientist, diplomat and former student of the famous Science-Po in Paris, possessing French, Egyptian and American diplomas, an Arab and an African, an Arab Coptic Christian married to a Jewish wife coming from a rich family. He had been active with Sadat in establishing peace between Egypt and Israel and an architect of the Camp David peace accord.
The tragedy of the 1990s and of BBG is that in spite of this background and his own efforts – and wider UN efforts, including by the Economic Commission of Europe – the West opted for a sudden big-bang approach to the introduction of capitalism in the post-Soviet Union instead of a gradual approach, steadily building up the institutions for a market and democratic society.
BBG brought to the UN deep personal convictions and his own intellectual capacities that the SG should be a global leader in ideas. With this, he had considerable success. He produced two important documents –the Agenda for Peace and the Agenda for Development, both still worth reading. He also encouraged, as Ismail Serageldin brings out, the six agenda-setting summit meetings of the 1990s – on Environment and Development, Population and Development, Social Development, Women Empowerment, Food and Hunger and Urbanization and Cities.
When he left the UN in 1996, (after the veto for a second term) BBG continued his activism, intellectual contributions and sometimes frustrations encouraging Muchkund Dubey to write "Multilateralism Besieged" for Kofi Annan's Commission on Threats, Challenges and Changes. The reminiscences contain several relating to BBG's later leadership as President of La Francophonie, the international organization of French-speaking countries and his strongly supportive role of the South Centre, a leading research group on international issues, founded to provide a third-world perspective in contrast to that of the OECD. It should be noted that BBG for 15 years strongly supported, in his capacity as ECPD Honorary President, the activity of the European Center for Peace and Development headquartered in Belgrade.
Maurice Strong's influence within the UN was much longer and in total contrast, over more than three decades from the 1970s and being an extraordinary force of influence, although only for short periods holding any formal executive position. Nitin Desai (a former UN Under-Secretary-General for Economic and Social Affairs) who worked closely with him identifies Maurice's his major contributions:
-                      As Secretary-General of the two path-breaking environmental conferences, Stockholm and the Earth Summit in Rio.
-                      As the first head of UNEP
-                      As leader of the UN relief efforts during the great drought of Africa in the 1980s
-                      As the architect of UN reforms under Kofi Annan
-                      As the Rector of the UN University of Peace in Costa Rica
-                      As a Special Representative of the Secretary General charged with finding a peaceful solution to North Korea's nuclear ambitions.
What makes Maurice so fascinating as a global mover and shaker is the source of his influence and his ability to inspire, keep and use an extraordinary range of contacts, at the highest and more modest levels. Political scientists and international relations experts who search for power behind all international action need to ponder the lessons of Maurice Strong. He left school early, became a junior beaver trader in Manitoba and soon developed as a self-made rich businessman. By 1964, aged 39, he was Executive-Vice President of the Power Corporation of Canada, an investment holding company. But his aims went far beyond money-making. From his early years Maurice had unusual and exceptional global vision and commitments – for the environment, for international action and the UN and for bettering humanity.
He also developed exceptional talents for identifying and building relationships with people with power and influence. James Wolfensohn, (much later President of the World Bank) describes his early contacts with Maurice to the 1960s when they were both involved in investing in a 2 million acre property in North West Australia. His entrepreneurial and leadership talents stood out and by 1966, as Jack Austin(a former Canadian Minister and Senator describes) Maurice had left the Power Corporation to become founding head of CIDA, the Canadian International Development Agency and then head of IDRC, the pioneering International Development Research Centre.   
This combination of strong links with the Canadian government and the private sector provided Maurice with a supportive base for his many international contributions. He also built and maintained links with visionary intellectuals and academics. He commissioned Barbara Ward with Rene Dubos to write "Only One Earth: the care and Maintenance of a Small Planet", drawing on a group of 70 experts from around the world. Maurice played an important role in the Society for International Development and was Chair of the NorthSouth Roundtable –where he interacted closely with Mahbub ul Haq, Jim Grant, myself and many others.
Maurice was skilful in listening, developing and adapting messages and policies to win consensus. In the early stages of mobilizing support for Stockholm, he learned of the third world suspicions at the time about the environmental cause: "The global sink of pollution has been filling up and third world development must now be slowed or sacrificed to prevent it overflowing". In response, Maurice organized the Cocoyoc Seminar with leading development economists and which he later described as "a major turning point in the development- environment dialogue" as Paolo Bifani recounts.  
Hanne, his wife, played a long and supportive role to Maurice's endeavours, perhaps especially for the spiritual element in his beliefs and in their respect for all faiths of the world. Rajendra K Pachauri, (Chairman of the International Panel on Climate Change) talks of first understanding Maurice's multi-faceted personality through meeting with her. He then joined Maurice in Beijing in 1991 with a small group of foreigners and a select group of Chinese, in discussions which led to the setting up of the China Council for International Cooperation on Environment and Development.
Martin Lees (onetime Rector of the University of Peace of the UN and SG of the Club of Rome) identifies the attributes of Maurice which made him so effective:  his determination to contribute to a better world and his commitment to international action and the UN; his positive attitude and vision; his engagement and vision being moderated by practical experience and realism. Lees also adds that "If Maurice had not been Canadian, I find it hard to believe that he could have played such a successful role in building international consensus for concerted action to face the challenges of the modern world." Or as Sonny Ramphal puts it, "Maurice Strong, ineluctably, had two countries: Canada and planet Earth".
The tributes and reminiscences about BBG and Maurice Strong in this collection are too many and too wide-ranging for a reviewer to give more than a few glimpses of the details they offer about international action and the ideas and leadership which BBG and Strong provided.  
Frederico Mayor, Negoslav Ostojic and Roberto Savio deserve thanks and many congratulations for assembling such a rich and diverse collection of substantial reminiscences, both insightful and inspiring. One is left as Tom Lovejoy (a senior Fellow of the UN Foundation) writes, it is hard to imagine a world without the whirlwind of perpetual activity that was Maurice. Both books are a reminder of what inspired leadership can achieve and an inspiration to all of us to carry forward such a global vision.  
Richard Jolly
---
[1]     Federico Mayor, Negoslav Ostojic, Roberto Savio (eds) Remembering Boutros Boutros-Ghali: a Visionary Internationalist and Global Leader-Tributes and Reminiscences (European Center for Peace and Development, Beograd) 2018
[1]     Federico Mayor, Negoslav Ostojic, Roberto Savio (eds), Remembering Maurice F Strong ; Tributes and Reminiscences (European Center for Peace and Development, Beograd) 2018