Champion for Children
Remembering Jim Grant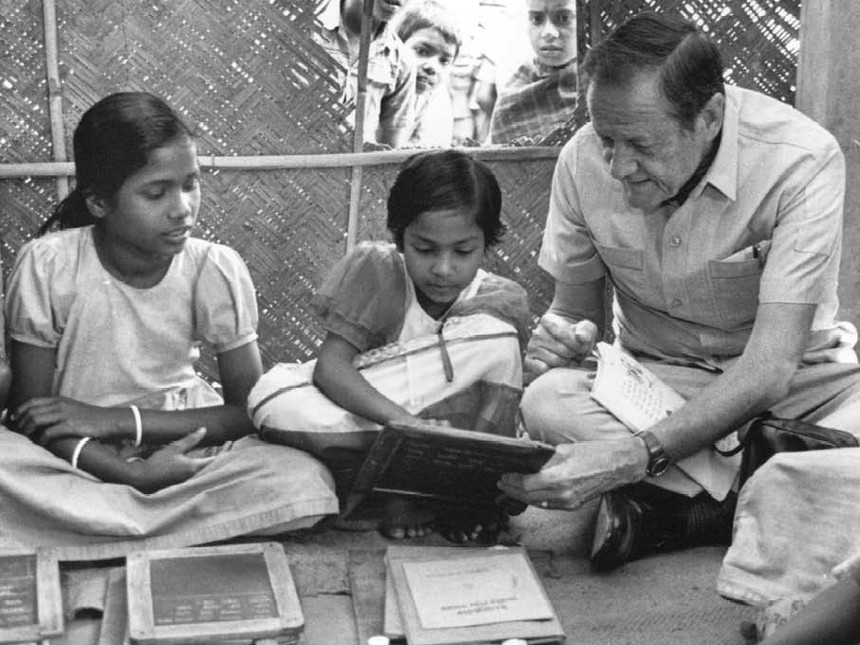 Jim Grant teaches two young girls
http://wsimag.com/economy-and-politics/23436-champion-for-children 
9 FEB 2017
The figure of Jim Grant is a historical one. He saved 25 million children, and it would be interesting to find out how many of them are now playing a relevant role in their countries and in the international arena. Of course, it is impossible to forget that Jim Grant managed to make the ideals of peace and international cooperation real, at a level which made the United Nations a major player all over the world.
Jim had tapped the potential of the UN as no one else ever had. He had unlocked a whole new realm of possibilities in health and international development, and shown that poor children did not have to die in mass numbers, mobilizing the entire world to take better care of its young citizens.
When UNICEF Executive Director Jim Grant died at the end of January, 1995, The New York Times mourned the passing of "one of the great Americans of this century." Amid a flurry of other tributes, Nelson Mandela wrote to say that "his death is a great loss to each and every needy child in this world" and Chinese Premier Li Peng added that Jim's death "was an irretrievable loss to the children of the world." And then – nothing. The world moved on and Grant's achievements sank back into the common clay of progress, despite the fact that this was a man whose extraordinary efforts had saved the lives of tens of millions of children around the world.
He managed to organise in New York the first Summit of Head of States which brought together the dignitaries from over 100 countries to engage in a plan of action to save children from malnutrition and death, and secure their survival and education. For the first time, a Convention on the Rights of the Child became an instrument of law, and the fact that then U.S. President Bill Clinton signed the Convention as a gesture to Jim who was already on his deathbed is a powerful symbol of Jim's power of call. During Jim's life, the world was frozen in the Cold War but Jim was able to transcend that division, bringing all countries together and making the values of international cooperation a reality. He was able to stop the conflicts of that time – some of them intractable – to have children vaccinated everywhere. Jim's was a powerful message: children's lives are linked to peace and wars must be secondary to the survival of humankind. This is a powerful lesson for the world of today, where wars are taking an increasing toll on civilians, who have become a primary target for terrorist action in different parts of the world. International law as a basis for international relations must again become the basis for global governance. Solidarity must again be the main tool for living together on the only planet we share and where climate control is now becoming the meeting space in which we can find a common language.
The right of the child is no longer just a legal treaty but is considered part of our general view of a better world. During his tenure at UNICEF, Jim saved 25 million children from death, yet today we still have 16,000 children under the age of 5 who die every day! So Jim has certainly left a void that nobody has filled so far. It is clearly not in the spirit of the times to take on difficult battles or daunting risks. What Jim achieved is a telling lesson for today's world and its political establishment. Here was somebody who took action based on ideals and carried that action forward with ferocious tenacity, making possible what was until then considered impossible, such as getting warring factions to agree to a ceasefire so that children could be vaccinated.
From Jim Grant, it was possible to learn a number of lessons – some visionary, some cautionary, but all valuable. Lesson that for Jim, economic development was, at heart, the development of individual potential – a vision he brought to UNICEF. Jim knew that the enormous statistics we deal in can numb the mind – and even dull the conscience. He was determined to remind people that behind those enormous numbers were the fates of individual human beings – and by doing so, to inspire us all to act. It was possible to learn a lesson attributed to everyone from Niels Bohr to Samuel Goldwyn to Yogi Berra: Prediction is very difficult, especially about the future. One of ODC's signature achievements was the establishment of the PQLI – the Physical Quality of Life index, which averaged adult literacy, child mortality, and life expectancy. ODC argued that the PQLI was a more reliable indicator of development than GDP, and thus a better predictor of peaceful, strong societies. The PQLI was certainly sound in theory – and was a precursor of the Human Development Index that is still in use today. But one of the countries at the top of the PQLI was only a few years later engulfed in a murderous civil war. The link between development and peace is as much art as science. Perhaps the most oft-repeated lesson of all was that it was nearly impossible to say no to Jim. And the world was far better for it.
His powers of persuasion were formidable – because of his passion, because of his immense practical knowledge… and because of his highly effective use of props. As has been noted by many, Jim carried a packet of oral rehydration salts in his pocket almost everywhere he went – and with that small packet showed presidents and prime ministers how something so inexpensive could save so many millions of young lives. Just three months earlier, in his first speech to the United Nations General Assembly, President Clinton had singled Jim out. The President began by citing some very sobering child mortality statistics – at the time, more than 30,000 children were dying each day from mostly preventable causes. Jim Grant, he said, had reminded us 'that each of those children had a name and a nationality; a family, a personality, and a potential.' And he called on the nations of the world to 'do better by the world's children,' declaring it 'the best investment we will ever make.' And so we come full circle.
Jim never rested on his own laurels. Rather, the picture of Jim is a reminder – that the work to which he dedicated his exceptional career is far from finished. He knew that it would be too soon to declare victory in the effort to vaccinate every child. "We are still only reaching around 80 per cent – 4 out of 5 children. And we can't rest until we reach that fifth child." He knew that we had far to go to eliminate preventable child mortality. Since Jim died, we have nearly halved the number of children who never reach their fifth birthday. But every day, 16,000 young children still die. He knew that millions of children were still going without proper nutrition – diminishing their ability to grow, to learn, and later, to earn a living. Around the world, more than 150 million children still suffer from stunting – at enormous cost to them and to their societies. We cannot rest until we reach those children – and until every child has a fair chance to live and learn and grow into a healthy, productive adulthood. Not for Jim's sake, but for theirs. For as he put it at the White House, improving the state of the world's children is 'not just the greatest of humanitarian causes, but also the greatest of investments in the future of the human race.'
And oral hydration salts are still saving lives.
Text by Prof. dr Negoslav P. Ostojić, Executive Director European Center for Peace and Development UPEACE
http://wsimag.com/economy-and-politics/23436-champion-for-children