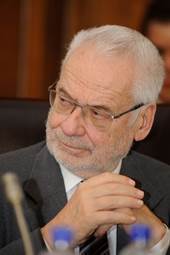 IN MEMORIAM
H.E. Prof. Dr. Erhard Busek
Dear ECPD Members and Friends,
With profound grief and a heavy heart, we deeply regret to announce that our long-standing distinguished member of the ECPD Council and close friend and prominent ECPD Professor, H.E. Erhard Busek, Former Vice.Chancellor of The Republic of Austria, passed away on 13th March, 2022. Both at the level of the institution and each of us personally, it has been an honour and a privilege to enjoy the opportunity of working with Professor Busek and following his wise guidance in a multitude of situations. His impressively rich career which included the highest and most responsible positions throughout his life in helping build and fortify the European Union was also often connected with the Balkans. He will be remembered, among all other accomplisments, for his valuable contribution to this part of Europe, as a prominent champion always striving for peace, tollerance, international cooperation, solving disputes by diplomatic negotiations and a brighter future for all peoples. 
On behalf of the European Centre for Peace and Development of the University for Peace est. by UN which Professor Erhard Busek actively supported for many years, until his last days, we express deep and heartfelt condolences to his family and closest business associates. Prof. Busek has been a prominent member of the ECPD Council, Rector of the Salzburg University of Applied Sciences, President of the Vienna Economic Forum, Jean Monet Chairman, President of ICEUR , the International Center for Advanced and Comparative EU-Russia Research in Vienna, Chairman, Vienna Peoples Party, Minister for Education, Minister for Science and Research, Chairman, Institute for Danube Region and Central Europe, Coordinator of the Southeast European Cooperative Initiative SECI, Special Coordinator of the Stability Pact for South Eastern Europe, as well as the heart of many more key institutions that have been active in shaping the world.
Our thoughts and hearts go with our esteemed Professor Erhard Busek whose noble deeds will remain with us forever. He shall be truly missed in all our future activities and shall never be forgotten.
Repose in Peace, dear Friend, in Eternal Glory !
Cabinet of the ECPD Executive Director
European Center for Peace and Development
University for Peace est. by United Nations