BREAKING NEWS
34th Plenary Meeting SEEHN
ECPD SIGNS MEMORANDUM OF UNDERSTANDING [MOU] FOR COLLABORATION WITH SOUTH EEASTERN EUROPE HEALTH NETWORK [SEEHN]
Skopje, 19 November, 2014
The ceremony was conducted in Skopje after formal presentation of the ECPD, Belgrade as a unique international entity, first and foremost as the European arm of the United Nations University of Peace and secondly with respect to its impressive track record, with an emphasis on health.
The MOU was signed by Professor Jeffrey Levett on behalf of the ECPD and by the Minister of Health of Former Yugoslav Republic of Macedonia Dr.Nikola Todorov host of the 34th Plenary Meeting of theSEEHN and Goran Cerkez President, Executive Committee and Assistant Minister of Health, Bosnia Herzegovina on behalf of SEEHN and in the presence of Dr Lucianne Licari, WHO, Europe, Dr Maria Ruseva, Member SEEN Executive Commitee, country representatives and other dignitaries.
This new realationship will provide a strong knock-on effect to help strengthen  health systems and schools of public health in the Region 2) improve regional human resources for health diplomacy and the management of disaster public health and 3) act as a support for the two strategies, WHO Health 2020 and SEE Growth 2020.
For the ECPD this is a significant step  in its developing mission in public health within Balkan space and an important boost to its Global Health School.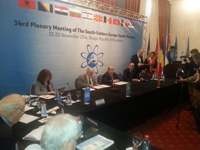 Evropski centar za mir i razvoj Univerziteta za mir UN obaveštava da su doktorske disertacije i Izveštaji o oceni disertacija Aleksandra Plavšina pod naslovom "Uticaj aktuelne ekonomske diplomatije Republike Srbije na izvoz i strane investicije i njeno moguće unapređenje"; Aleksandra Weisnera pod naslovom "Primarna i sekundarna prevencija oružanog nasilja adolescenata u Srbiji" i Novaka Lučića pod naslovom "Analiza i ocjena stranih direktnih investicija u Makedoniji sa projekcijama dugoročnog razvoja" stavljeni na uvid javnosti u Sekretarijatu ECPD (Beograd, Terazije 41), 15 dana od 12.9.2017. godine.
Tab content 2
Tab content 3