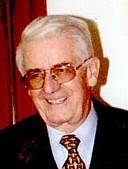 Dear friends and distinguished members of ECPD,
With deep sorrow and grief we announce that our dear and good friend, Vice President of the ECPD Council, Academician Prof. Dr. Vladimir Stipetić passed away in Zagreb at the age of 89. Academician Stipetić was a prominent scientist and internationally reputed economic theoretician, former Rector of the University of Zagreb and one of the most prestigious members of the Croatian Academy of Sciences and Arts, member of a large number of the academies of sciences in many countries and author of numerous papers published in many languages all over the world. His demise represents an irreparable loss for our institution whose mission and noble goals Academician Stipetić was devotedly pursuing from the very foundation of ECPD, and everything he did will forever be highly appreciated. His remarkable personality, high professionalism and genuine dedication to ECPD will always be remembered and he will be greatly missed.
Prof. Dr. Negoslav Ostojić
ECPD Executive Director
Evropski centar za mir i razvoj Univerziteta za mir UN obaveštava da su doktorska disertacija i Izveštaj o oceni disertacije Aleksandre Plazinić pod naslovom "The European Union Accession Negotiations with Serbia – the Role of Communication Strategy" stavljeni na uvid javnosti u Sekretarijatu ECPD (Beograd, Terazije 41), 15 dana od 11.10.2017. godine.
Tab content 2
Tab content 3