The Meeting was organized and held in cooperation with the "European Geological Association". It was devoted to the issues relating to "Orogeny, Magmatism and Metallogeny in Europe". About 600 scientists and experts attended the Meeting from all five continents. It provided a unique opportunity for the scientists from the East and the West, the North and the South, to exchange their experience and achievements in the relevant fields of science. At the meeting more than 300 papers were presented and 73 were published in the ECPD publication "The Fifth Meeting of the European Geological Societies."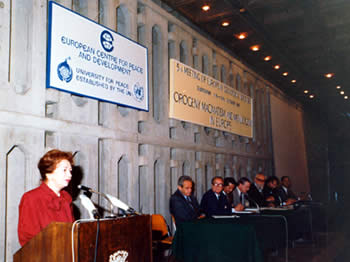 Professor Simonida Marjanovic, President of the ECPD Council, opening the 5th Meeting of European Geological Societies. First from the left in the chair professor Z. Knezevic, first ECPD Executive Director (Dubrovnik, October 6, 1987)
Evropski centar za mir i razvoj Univerziteta za mir UN obaveštava da su doktorske disertacije i Izveštaji o oceni disertacija Aleksandra Plavšina pod naslovom "Uticaj aktuelne ekonomske diplomatije Republike Srbije na izvoz i strane investicije i njeno moguće unapređenje"; Aleksandra Weisnera pod naslovom "Primarna i sekundarna prevencija oružanog nasilja adolescenata u Srbiji" i Novaka Lučića pod naslovom "Analiza i ocjena stranih direktnih investicija u Makedoniji sa projekcijama dugoročnog razvoja" stavljeni na uvid javnosti u Sekretarijatu ECPD (Beograd, Terazije 41), 15 dana od 12.9.2017. godine.
Tab content 2
Tab content 3