The ECPD International Round Table on the "Debt and Development" was a follow – up event of the Third World Scientific Banking Meeting. In accordance with the conclusions of the Meeting, ECPD, in cooperation with the Sasakawa Peace Foundation, Tokyo, set up an International Expert Group to "study the measures that could meet the demands for sustainable (economic) growth and financial stability during the next ten years…" The working group headed by co-presidents, Saburo Okita, the WSBM Council's President, and Kazuo Takahashi, from the Sasakawa Foundation, held tree meetings/round tables: In Tokyo on 15 – 17 April, 1990, in Belgrade, on 23 – 25 June, 1990 and at Sveti Stefan (Montenegro) on 23 – 25 July of the same year. The working group findings were issued in a brief publication entitled "Debt and Development" (ECPD Publications).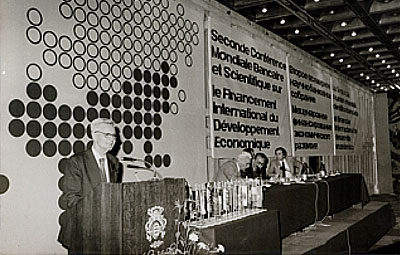 Jan Tinbergen, Nobel Prize Winner, discusses in the ECPD conference
on the contemporary issues of economic development financing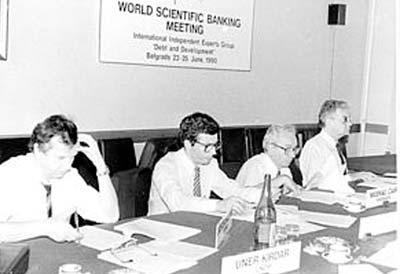 The International Independent Experts Group meeting on "Debt and Development",  
Belgrade, June 23 - 25, 1990
Evropski centar za mir i razvoj Univerziteta za mir UN obaveštava da su doktorska disertacija i Izveštaj o oceni disertacije Aleksandre Plazinić pod naslovom "The European Union Accession Negotiations with Serbia – the Role of Communication Strategy" stavljeni na uvid javnosti u Sekretarijatu ECPD (Beograd, Terazije 41), 15 dana od 11.10.2017. godine.
Tab content 2
Tab content 3