The First Regional Conference on Integrative Protection of the Cultural Landscape was organized in cooperation with the Ministry of Culture and Education of the Republic of Srpska, Banja Luka; the Republican Institute for the Protection of Cultural-Historical and Natural Heritage, Banja Luka; the Ministry of Culture and Media of the Republic of Serbia, Belgrade, and the Municipality of the City of Banja Luka.

The main objective of the Conference was that the participants, with their speeches and discussions should contribute to: 

1) the planning of cultural policy measures and the strategy of sustainable development from a cultural point of view, and 

2) the identification and definition of the elements of cultural policy, especially with respect of the protection for cultural-historical, natural and spiritual heritage within the development of urban and rural environment.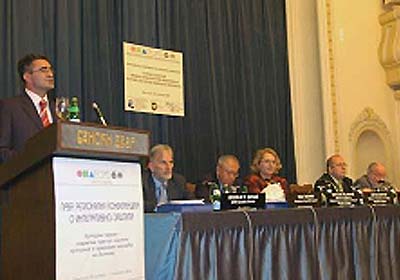 The Conference chairmanship-beginning of the event
Banja Luka, October 30-31, 2006

The conference was attended by 104 participants: scientists, public workers and experts in the field from all Balkan and most other European countries. It was chaired by a group of renowned international experts, who, at the same time, were the moderators for each of four working sessions. Conclusions were also made up by the group of the internationally prominent experts, who recommended, inter alia, continuity in the work of the Conference by holding a meeting once a year, setting up the Scientific Board of the conference in permanent session and the like.

Related documents:



·         Agenda of the ECPD International Conference
Evropski centar za mir i razvoj Univerziteta za mir UN obaveštava da su doktorske disertacije i Izveštaji o oceni disertacija Aleksandra Plavšina pod naslovom "Uticaj aktuelne ekonomske diplomatije Republike Srbije na izvoz i strane investicije i njeno moguće unapređenje"; Aleksandra Weisnera pod naslovom "Primarna i sekundarna prevencija oružanog nasilja adolescenata u Srbiji" i Novaka Lučića pod naslovom "Analiza i ocjena stranih direktnih investicija u Makedoniji sa projekcijama dugoročnog razvoja" stavljeni na uvid javnosti u Sekretarijatu ECPD (Beograd, Terazije 41), 15 dana od 12.9.2017. godine.
Tab content 2
Tab content 3