The Fourth ECPD International Conference
NATIONAL AND INTER-ETHNIC RECONCILIATION,
RELIGIOUS TOLERANCE AND HUMAN SECURITY
IN THE BALKANS
Milocer, Montenegro, October 30-31, 2008.
The Fourth ECPD International conference on "National and Inter-ethnic Reconciliation, Religious Tolerance and Human Security in the Balkans" washeld in Miločer (Montenegro) on October 30-31, 2008. It was attended by 102 participants and eight observers. Presence and Introductory speech of H.E. Milo Đukanović, Prime Minister of Montenegro was especially noticed. The Conference was chaired by H.E. Prof. Takehiro Togo, President of the ECPD Council who delivered his Opening address. 

The work of the Conference was covered by a dozen of correspondents from local, regional and international media. In accordance with the settled procedure, the Conference was preceded by the Sixth ECPD International Permanent Study Group (IPSG) session. The IPSG, following discussions and conclusions brought out in its Fifth session held in Belgrade on 20-21 Jun, 2008, re-considered current situation and future prospective of the Balkan's region determined by the inter-ethnic and inter-religious disputes.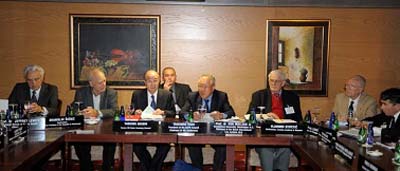 ECPD International Permanent Study Group Session Belgrade on 20-21 June, 2008 
In that respect a brief preliminary study "Reconciliation as precondition for peace and stability in the Balkans" was scrutinized as well. The Session reviewed and defined the final version of the Conference AGENDA, calling the Conference to pay particular attention to the impact of the Kosovo case upon development within the region and beyond; impact of the global financial crisis upon Balkan's economic and social development; searching the ways leading to reconciliation and human security in the Balkans, etc. The next IPSG session, as suggested, will be held in Jun 2009.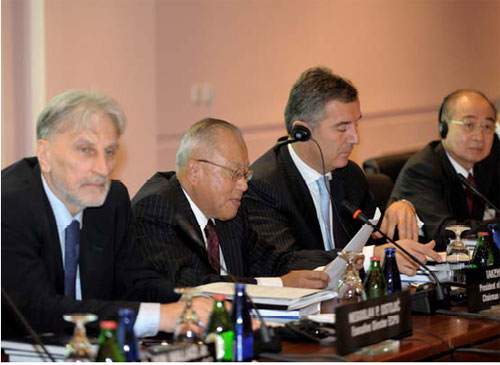 The Conference chairmanship-beginning of the event
The subject matters which the IPSG will be dealing with in the meantime was also discussed. The Conference was participated by prominent scientific and distinguished public figures; renowned experts for the Balkan's affairs; religious representatives and others. H.E. Yasushi Akashi, former UN Under Secretary-General and the UN Special representative for former Yugoslavia; Mancham, Sir James, founding president of the Republic of Seychelles and the President of the Global peace council; H.E. Shadoul Majed, Ambassador of Syria in Belgrade; H.E. Nano Ružin, Macedonian Ambassador to NATO; Terhiko Shinada, Deputy of the Ambassador of Japan in Serbia and  ontenegro; Soung Yong Kim, Regional UPF director for the West Balkans; H.E. Matjež Kovačač, Ambassador –in the Ministry for Foreign Affairs of Slovenia; Christine Samandari-Hakim, Baha'ie association of Women for development, peace and unity; Yury Baturin, well known Russian cosmonaut, among others took parts in the Conference. The  onference chairmanship-beginning of the event Miločer, October 30-31, 2008, 2008.

The Conference was participated also by seven academicians (Momir Đurović, Vladeta Jerotić, Časlav Ocić, Milo Paskal, Vladimir Stipetić, Branislav Šoškić, Mijat Šuković). Numerous deans and professor of prestigious universities of European and other countries, as well as directors and associates/researchers of more than ten academies of sciences and research institutes contributed greatly to successful and productive works of the Conference.

From the religious denominations about a dozen of clergymen attended the Conference and took part in its work. Among them there were Archbishop Amfilohije Radović, Serbian Orthodox Church; Bishop Joanikije Mićović, Serbian Orthodox Church, Montenegro; Muhamed Jusufspahić, Mufti, Islamic religious community, Belgrade; Rifad Feizić, Reis of Islamic community, Montenegro; Džemo Redžematović, Imam, Islam community, Montenegro and others. Stanislav Hočevar, Archbishop, Catholic religious community, Belgrade was not able to attend the Conference, but hi sent his greetings and best wishes to successful work of the Conference. The work of the Conference was developing through six plenary sessions which were managed by corresponding mediators. Presented papers/speeches were followed by open discussions in some cases with opposite views. Closing remarks announced by Prof. Takehiro Togo were accepted unanimously.

Presented papers and other materials will be published in a separate publication – the PROCEEDINGS. Organization and holding of the Conference were supported and financially helped by the Government of Montenegro, Tokyo Club, Tokyo, and Federation of Universal Peace – the European Chapter. Next Conference, as indicated, will be held in 2009. Separate proceedings of the First, Second and Third Conference and the Third IPSG Meeting were published while a proceedings of the Fourth Conference is being prepared to be published.
Related documents:
·         Agenda of the V ECPD International Conference
·         Opening Address, Milo Djukanovic, Prime Minister, Government of Montenegro
Evropski centar za mir i razvoj Univerziteta za mir UN obaveštava da su doktorske disertacije i Izveštaji o oceni disertacija Aleksandra Plavšina pod naslovom "Uticaj aktuelne ekonomske diplomatije Republike Srbije na izvoz i strane investicije i njeno moguće unapređenje"; Aleksandra Weisnera pod naslovom "Primarna i sekundarna prevencija oružanog nasilja adolescenata u Srbiji" i Novaka Lučića pod naslovom "Analiza i ocjena stranih direktnih investicija u Makedoniji sa projekcijama dugoročnog razvoja" stavljeni na uvid javnosti u Sekretarijatu ECPD (Beograd, Terazije 41), 15 dana od 12.9.2017. godine.
Tab content 2
Tab content 3